After last week's post, I feel inspired to share a story with you.  A story that I didn't make up, and a story that really propelled me forward into trusting that all good things were coming.
It was a typical evening last fall – I came home from work, practiced yoga, and planned to have a simple dinner at home.  As I was cleaning up my yoga room, I looked down and noticed a small piece of folded paper.  I picked it up, unfolded it, and read it.  I did not recognize the handwriting: wasn't mine, wasn't my husband's, or my sister's, or best friend's.  It was totally unfamiliar, and yet, the message took my breath away.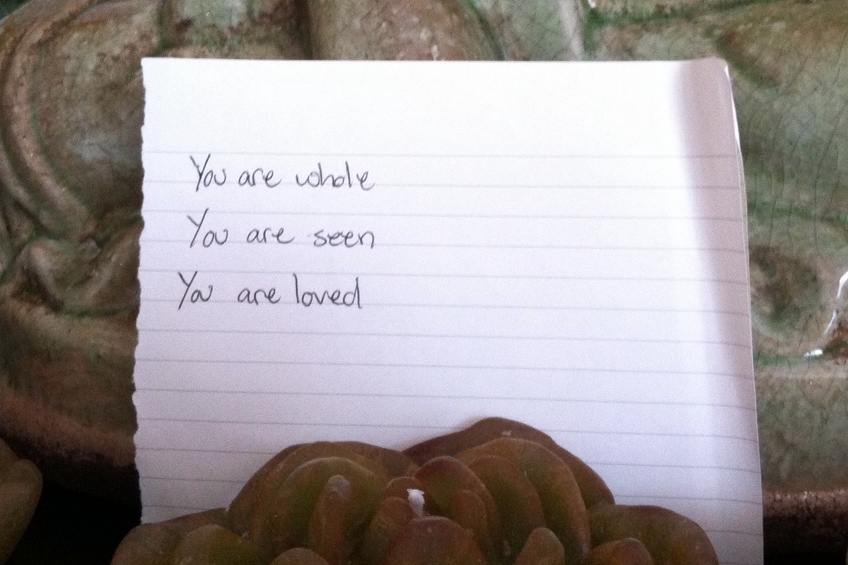 You are whole.
You are seen.
You are loved.
The note had no name on it, yet I knew this message was just for me.  It was exactly what I needed to hear at that time.  You see, over the months previous to this event, I felt incomplete.  Like there must be something wrong with me because I was having such a hard time.  Truly feeling like I wasn't enough.
I also felt like the universe wasn't taking notice of me.  I was trying so hard to make things happen in my life, and I wasn't getting anywhere.  Like my heart's desires were invisible to the planet.  Like my prayers weren't being heard.
And while I knew that my family and friends loved me, I often felt alone and isolated.
Not exactly what you would expect from a yoga teacher, right?  Honestly, that's how I felt.  And at the time, I couldn't see how to break free from those thoughts and feelings.  I was stuck.
And then this message came, as if someone knew exactly what my heart needed to know.
You are whole.
You are seen.
You are loved.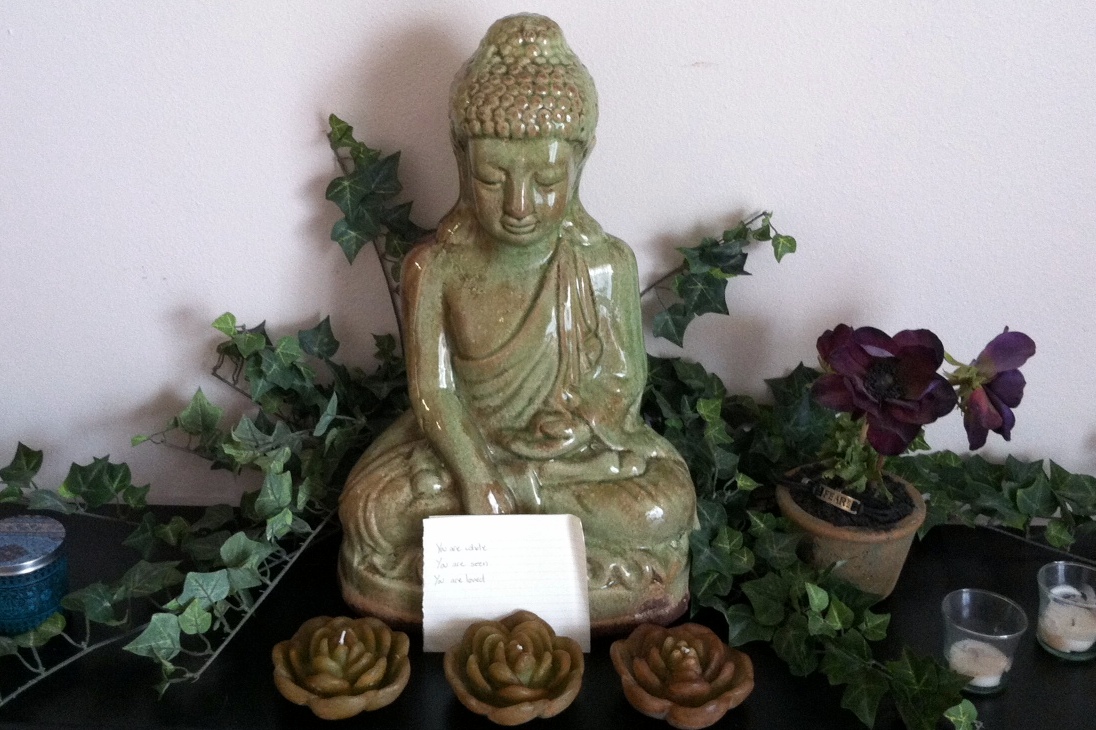 I took this note seriously.  The message was too precious.  It came at the right time.  It landed.  It became my mantra.  Whenever I was stressed, nervous, or simply having a bad day, I came back to this message and reminded myself that I am something more.
I share this with you because everyone on on the planet needs this message:
You are whole.
You are seen.
You are loved.
How many of us carry around burdens — stories or beliefs that we are not enough, we are incomplete or damaged, we don't matter, and that we are unlovable?
As my mom says, "All God's children got somethin'!"  Meaning, each one of us struggles.  Each one of us has scars.  Each one of us has pain.  Each one of us has suffered.
But sometimes, out of the blue, we receive a reassuring message of love.  That we are perfect as we are.  That we are named.  That we are so, so loved.
I invite you to get quiet, and to think about what if someone like your best friend or a guardian angel left a note just for you?  A note that just you needed to hear?  Something your heart has been yearning for?  Something you have longed to hear for quite some time?  What would that note say?  How would you feel when you read it?  Most importantly, how would you feel when you shared it?
Pay attention to these messages.  They are out there.  They do come when you need them.  Share them when you know someone needs to hear them.  Because we all need to hear these same messages.  Each one of us.  We all have bad days.  We all have fears.  And we all deserve to feel loved.
Share your message.  Set it free.  Watch what happens when you speak the truth.
You are whole.
You are seen.
You are loved.
Namaste,
Chelsea