I love all morning pastries – scones, croissants, morning buns, donuts … you name it, I love it.  There's just something about eating a sweet treat for breakfast and sipping strong coffee.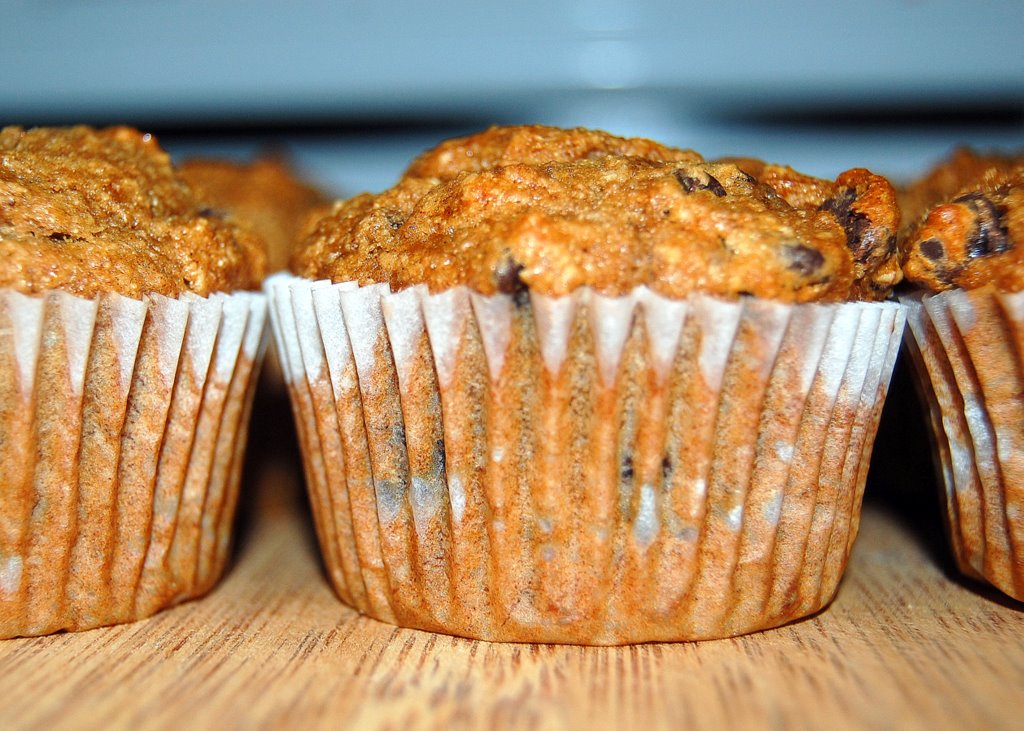 Muffins are by far my favorite.  But I find that most muffins are as heavy as a softball and just as greasy as a bacon & cheese egg sandwich.  You know the kind … the muffins that actually make donuts look healthy … over-sized muffins that are full of trans fat, sugar, and preservatives.  Just take a look at the ingredients list on your store-bought muffins.  Scary long list of words that you'd need a degree in Chemistry to figure out.  Friends, this is not how breakfast was meant to be.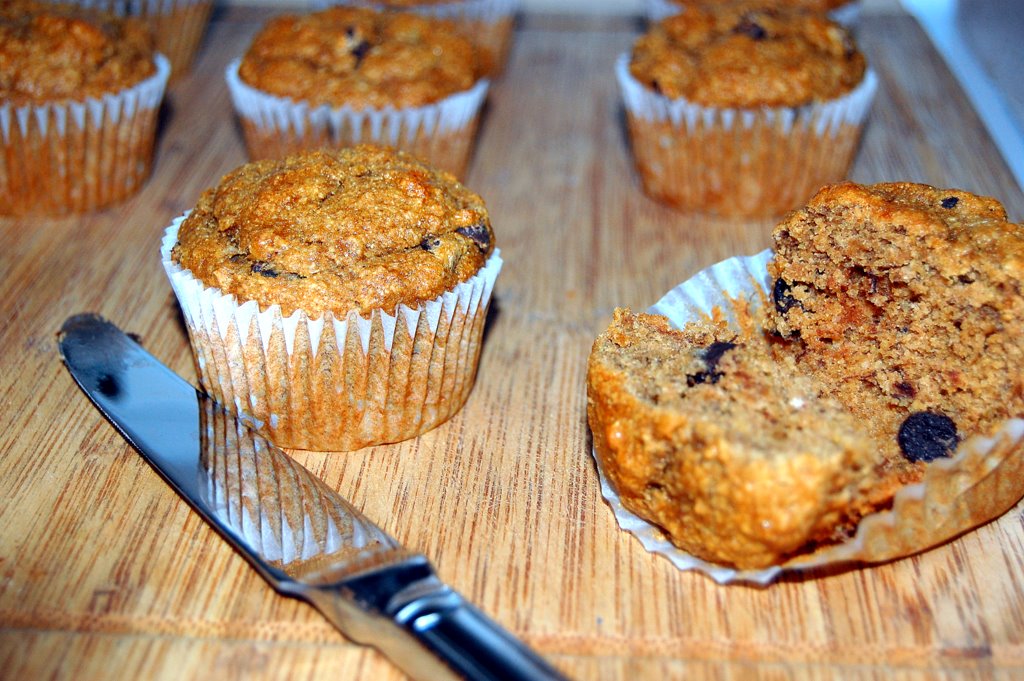 This muffin, however, has it right.  Whole grains.  Lower fat.  Fresh fruit.  Lower sugar.  And yes, chocolate.  How is this possible you ask?  This muffin recipe is adapted from Veganomicon, and it works like a charm every time.  My friends and family go crazy over the rich flavor and can't believe that not only is the recipe slightly healthy, but it's vegan to boot.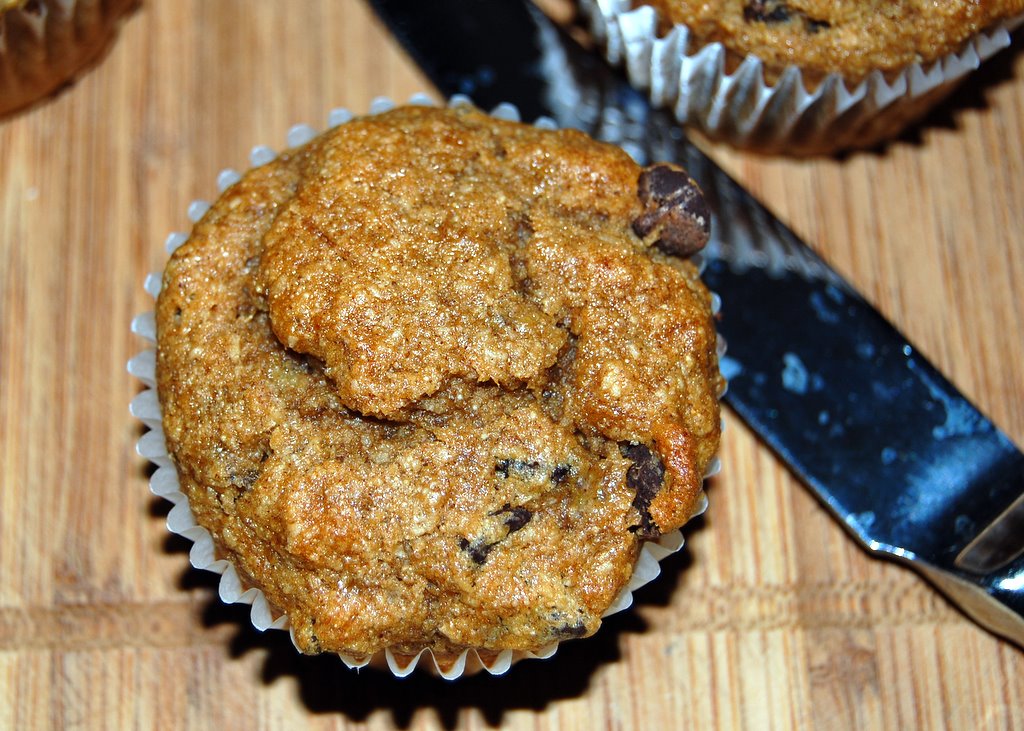 Well, as healthy as a muffin can get, right?  Enjoy the recipe, and be prepared to never look at a muffin the same way again.  You won't want to go back to those other muffins.  Trust me.
The Best Banana Muffins Ever

adapted from Veganomicon
3 very ripe bananas… way beyond the freckle stage
1/4 cup unsweetened applesauce
1/4 cup canola oil
1/2 cup sugar – I prefer raw sugar in this recipe
2 tablespoons molasses
1.75 cups whole wheat pastry flour
1/2 cup oat bran
3/4 teaspoon baking soda
1 heaping teaspoon cinnamon (use less if using Penzey's)
1/4 teaspoon nutmeg
1/2 teaspoon Kosher salt
1/2 cup vegan semisweet chocolate chips, optional… but when is chocolate ever optional?
1/2 cup shredded coconut is also nice

Preheat the oven to 350 and line a muffin tin with paper liners.  In a medium bowl, combine the flour, oat bran, baking soda, cinnamon, nutmeg, and salt.  Use a whisk to combine, breaking up any lumps.  Set the flour mixture aside.
In a large bowl, mash the bananas really well.  Add the sugar, applesauce, oil, and molasses.  Whisk well to combine.  Add the flour mixture to the banana mixture and mix with a wooden spoon  or rubber spatula until just combined.  If using chocolate chips and/or coconut, fold them in now.
Scoop into muffin tins.  This should come out to 12 even muffins, so don't be shy about filling the muffin tins with a lot of batter.
Bake for about 18 – 23 minutes, or until a toothpick inserted into the center of a muffin comes out clean.  Cool for a few minutes in the muffin pan, and then remove the muffins and let cool on a wire rack.
These are best fresh from the oven and slightly warm.  They also keep well in an air-tight container for a few days.  The best way to eat leftover muffins is to slice and toast them in the toaster oven for a few minutes and then top them with some Smart Balance.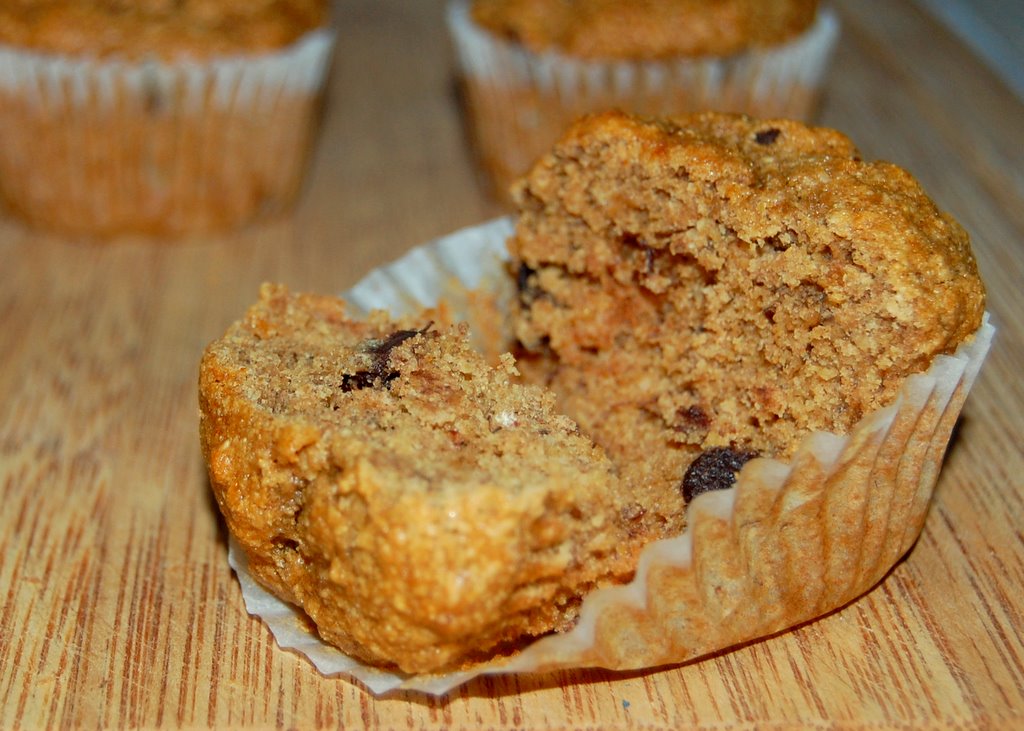 Deliciousness.