Have you ever bitten into a cookie, thinking it was going to be a rich, chocolaty cookie … only to realize that it's oatmeal raisin, instead?  I've done this before.  The first bite seems off. For a brief second, I am confused. If I am expecting chocolate, I want chocolate.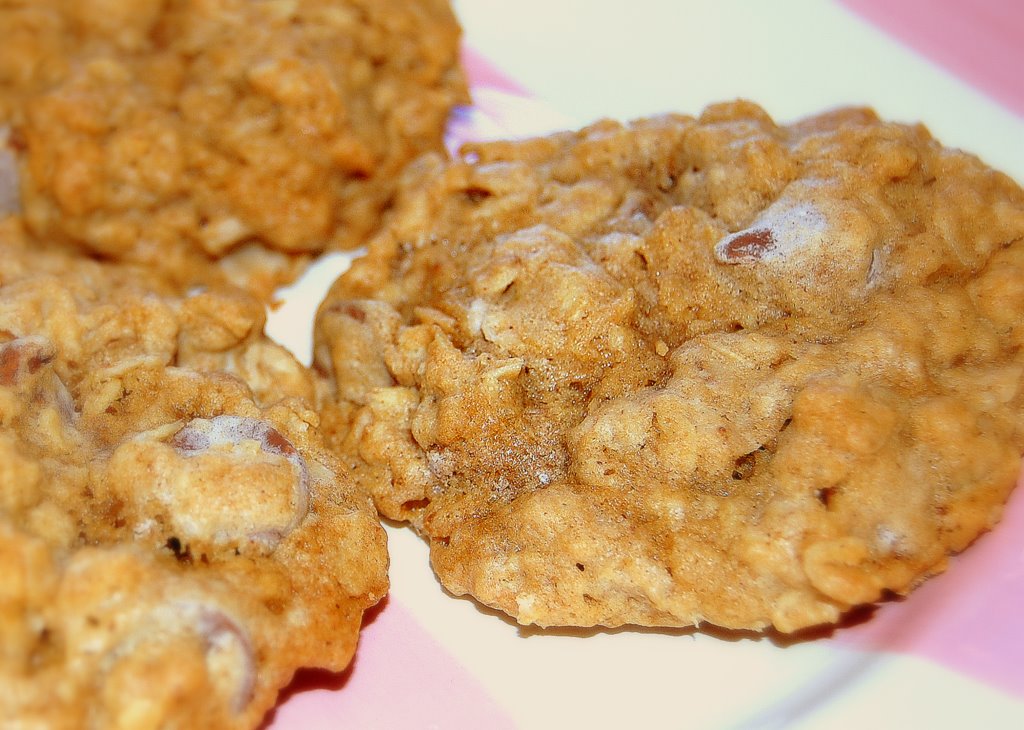 Sometimes those darn raisins disguise themselves as chocolate chips, and they get my hopes up.   Not that raisins are bad, they are just different.  I have to be in the mood for an oatmeal raisin cookie, but I am always game for a chocolate chip one. If you are like me though, you'll take a second bite and realize it's not bad after all.  It's sweet, chewy, and has the right amount of cinnamon.  Did I mention that I love cookies?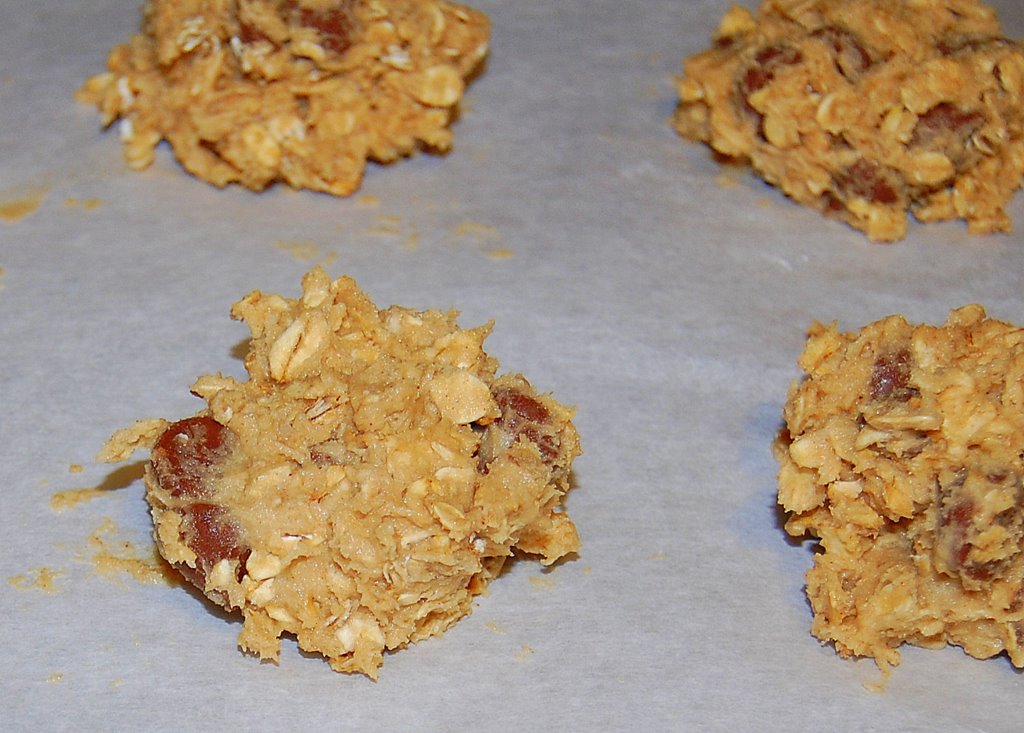 I bring up this scenario because lately I have been substitute teaching for a few studios in the Tulsa area.  I notice that when I substitute teach, it's as if the students are expecting chocolate chip cookies – their favorite instructor for their favorite class – and instead they are presented with oatmeal raisin, a substitute teacher.  Still good, just different.
The challenge to substitute teaching is that in most cases, the students and I don't know each other.  And yet, we have expectations of each other.
The tricky thing is that these expectations will color how we experience the class.  But, we can't control how others experience things.  We have to let others choose their experience.  As a teacher, this is a hard one – I want everyone to have the best experience ever.  And while that might be my intention, I know that ultimately the students choose their own experience.
Subbing yoga classes is a wonderful opportunity for me to practice letting go of these expectations, and to truly come from a place of emptiness.  What I mean by that is to drop what I think I know and to come from a place of "I don't know."  This helps me to truly be with the students in the room – not to compare them to other classes I have taught - but teach to who is actually in the room.
As I have subbed over the past few weeks and reflect on this, I realize that I also need to come from a place of not knowing when I teach my regular classes and my regular students.  We never really know how the other person is experiencing something.  We assume we know, we think that we can tell, and that we have all the information.  But, I really don't know.
When I allow myself to teach from a place of "I don't know," my teaching is more powerful.  I allow the students to truly see me, and I allow myself to see my students.  Seeing and being seen is so powerful.  We don't do it often enough and our society doesn't really help us do this well.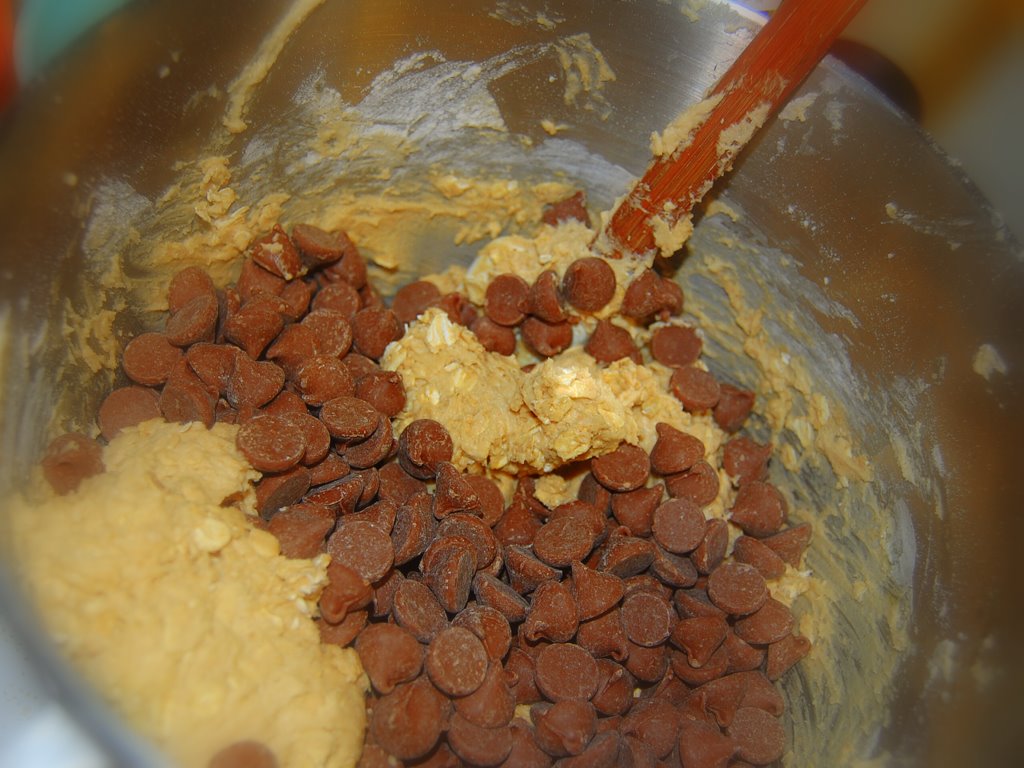 Every time I get on my mat, or teach a class, is an opportunity to get empty.  To create something new, coming from a place of I don't know.  It's certainly not easy, it does take practice.  But it's more difficult when we come into something already having our minds made up – it's harder to like an oatmeal cookie when you've already decided that chocolate chip is all that you like.
So, I invite you to get on  your yoga mat and drop what you know and see what good can come from it.  You might just find a new love for oatmeal cookies or a new substitute teacher!
I've included my favorite oatmeal cookie recipe, and yes, it does have chocolate.  It's the best of both worlds.  Enjoy!
Oatmeal Chocolate Chip Cookies
adapted from Martha Stewart's Baking Handbook
First, get out all the yummy stuff: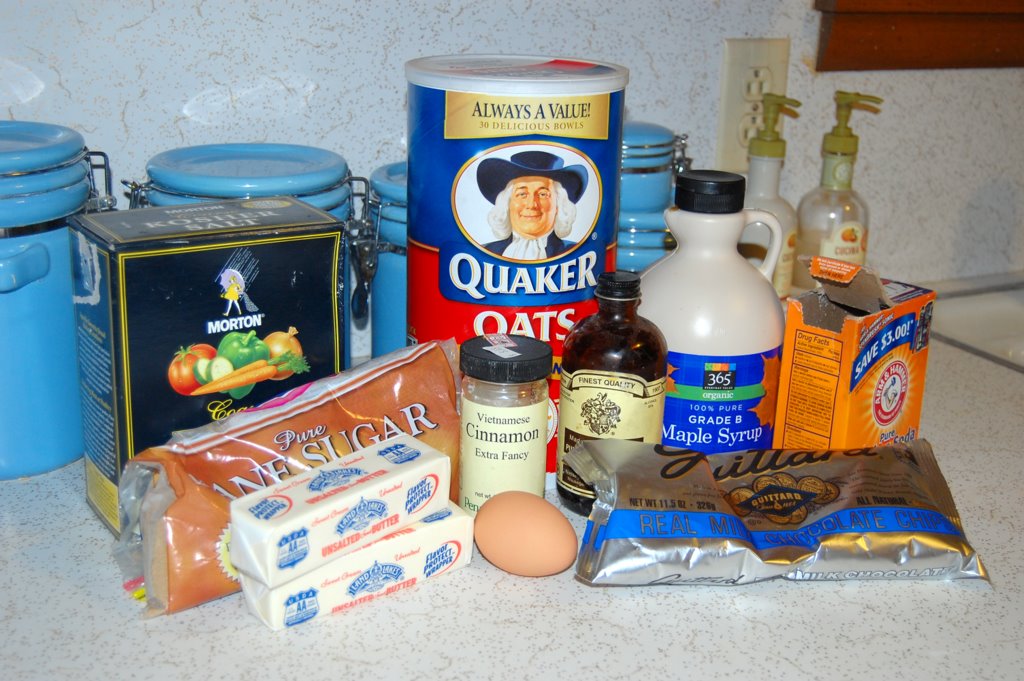 1.75 cups all purpose flour
1 tsp cinnamon – Penzey's Vietnamese is the best!
1 tsp baking soda
1 tsp Kosher salt
2 sticks unsalted butter at room temperature
1 cup packed light brown sugar
1/3 cup pure Grade B maple syrup  – Don't skimp here, use the real stuff.  Trust me.
1 large egg at room temperature
2 tsps pure vanilla extract
3 cups old fashioned rolled oats
2 cups milk chocolate chips  – The very best are Guittard milk chocolate chips.
Preheat the oven to 325 and line cookie sheets with parchment paper.  In a small bowl combine the flour, cinnamon, baking soda, and salt.  Set the flour mixture aside.
In the bowl of mixer fitted with a paddle attachment, combine the butter and brown sugar at medium speed until it is light and fluffy, about 3 to 4 minutes.  Add the maple syrup and continue to beat until well combined.  Add the egg and vanilla and continue to beat until the mixture is well combined.  This is why it's best to use a room temperature egg; it will combine into the butter mixture more easily. Scrape down the sides of the bowl as needed.
With the mixer on the lowest speed, add the flour mixture and mix until just combined.  Then add the oatmeal and mix until just combined.  Be careful not to over beat.  Once the oatmeal is well incorporated, take the bowl off the mixer and add the chocolate chips; stir by hand with a spatula or wooden spoon until well combined.
Drop by 2 tablespoon mounds onto the cookie sheet – these will be large, chewy cookies, so be generous as you form the cookies.  Make sure they are about 2 inches apart from each other, and slightly flatten the top of each ball of dough so that they bake evenly.
Bake for about 15 – 18 minutes until the outside edges are golden brown and the tops are set and just starting to turn golden.  Cool the cookies on the cookie sheet for about a minute or so, and then transfer to wire racks to cool completely.
You may want to sample a few of them while they are warm; glass of milk is not optional but a must.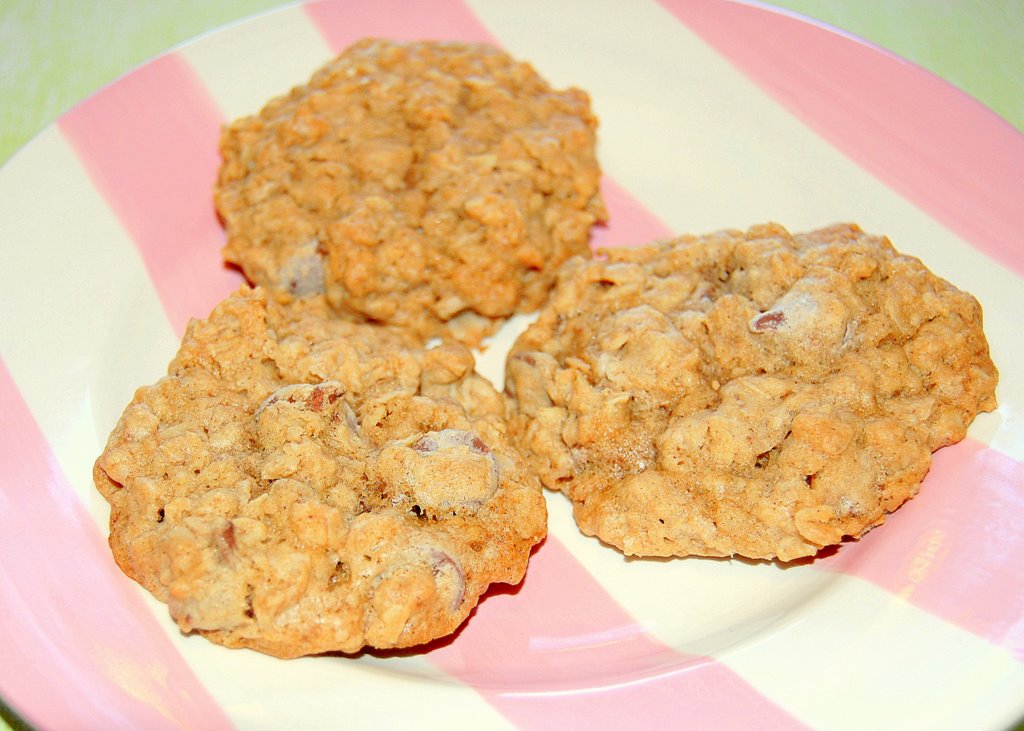 Peace,
Chelsea