I recently returned from Level II Teacher Training Bootcamp with Baron Baptiste in Austin, TX.  I met yogis from all around the globe and I moved a step closer to becoming a certified Baptiste Power Vinyasa Yoga teacher.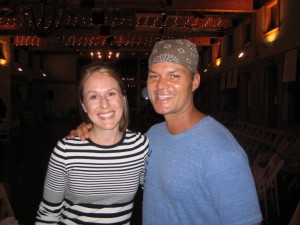 So, what did I learn during my week of yoga teacher training?  Sure I learned a few tips about  how to help students into handstands and other asanas, but the most important thing I learned was to just to trust the process, stop trying to "fix it," and to start trying easy instead of trying hard.
It's amazing how Baron is an excellent teacher, yet never gives his students "the answer" they are looking for.  So often we (*cough* . . . I ) want some magical answer to all of our questions, problems, and struggles.  But by learning how to just be, let be, and trust the process – transformation is absolutely possible.  It starts by coming from a place of nothingness, emptying one's rice bowl let's say, and coming from a place of "I don't know."  Baron says something to the effect of, "The how is in the now."  Transformation comes from being in the present.  I used to think that coming from these places meant that I was weak, not intelligent, and somehow a failure – especially if I didn't have the "right" answer or knowledge.
I have spent much of my life in "fix-it" mode.  For most of my life I have been trying really hard.  Trying really hard to do everything.  When I was in kindergarten I made up homework assignments for myself (my older brother still makes fun of me for this), and I think that carried through all the way to grad school.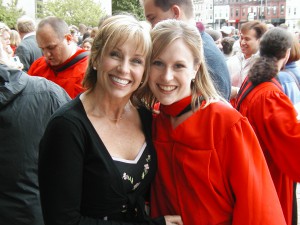 I also realized during my week of training that one of the mantras I tell myself over and over again is, "I'll just do it myself."  And while yes, this attitude has definitely helped me become a successful student and independent woman, I know that sometimes the cost to this way of life was leaving others behind and isolating myself from developing closer relationships with those around me.  And it probably would have taken hell to freeze over before I would ever even consider asking someone to help me with something.
During my week of training, I learned how to start trying easy. Even though everyone else around me was rockin' the yoga practices, I took a few more child poses and focused on my breath instead of muscling through an injury.
When we try easy, our path becomes more clear; we can see what is before us, and instead of taking every back road possible to get to our destination, we take a more direct and powerful route.
It was quite freeing when I started to let go of trying to fix everything, do everything myself, and try hard at everything.  I could literally feel my body language begin to open, like a ton of bricks had been lifted from my shoulders.  I felt so much more comfortable with the practice teaching exercises we did throughout training, and I even enjoyed our morning meditations because I didn't feel like I had to meditate the "right way" or be the perfect yogi.  I could just be myself and simply just be.  Imagine that!
What if we could just simply trust the process, try easy, and just be, even when we are doing normal things throughout our day, such as baking?  Stop fretting, and start being.
A perfect example of this is baking muffins.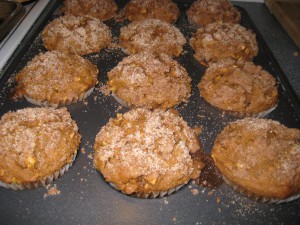 The "muffin method" is quite simple.  The baker knows that the less you do, the better the muffins are.  First sift the dry ingredients into a bowl and set aside.  Then mix the wet ingredients.  Fold the dry ingredients into the wet ingredients just until the ingredients are moistened.  You really only need a few stirs and that's it!  The more you stir, the more tough and chewy the muffins will be.  Trying too hard makes the muffins hard as rock.  So true, right?
Baking muffins teaches us that as we "try easy" instead of "trying hard," the muffins will come out light and so yummy!  So, bake a batch of muffins and then get on your yoga mat, or practice yoga and then get in the kitchen.  See what happens when you allow yourself to trust the process, try easy instead of trying hard, to let go and just be and let be.  It's truly amazing.
Enjoy the journey (and the muffins!).
Namaste,
Chelsea
Pumpkin Apple Muffins with Streusel Topping
Adapted from www.allrecipes.com
2 1/2 cups flour (I use whole wheat pastry flour)
1/2 cup brown sugar
1/2 granulated sugar
1 tablespoon pumpkin pie spice*
1/8 teaspoon ground cloves
1 teaspoon baking soda
1/2 teaspoon Kosher salt
2 eggs, lightly beaten
1 cup canned pumpkin (plain)
1/2 cup canola oil
2 cups finely chopped and peeled apples
Topping:
1/4 cup granulated sugar
2 tablespoons flour
1/2 teaspoon cinnamon
1 tablespoon butter
Preheat oven to 350 and line muffin tins with paper cups.
In a large bowl, combine the flour, sugar, pumpkin pie spice, baking soda, and salt and set aside.  In another bowl, combine the eggs, pumpkin, and oil.  Stir dry ingredients into the wet ingredients until just moistened.  Fold in apples.  Divide batter into 12 muffin tins – they will be quite full!
For topping, combine sugar, flour, and cinnamon in a small bowl.  Cut in the butter until the mixture resembles course crumbs.  Sprinkle 1 teaspoon of topping over each muffin.
Bake for 30 minutes until a toothpick inserted in the center of a muffin comes out clean.  Cool in pan for about 5 minutes and then carefully remove the muffins from the tin and cool on a wire rack.  Serve warm or at room temperature.
*Pumpkin pie spice
4 tablespoons ground cinnamon
4 teaspoons ground nutmeg
4 teaspoons ground ginger
3 teaspoons ground allspice