Today we spent much of the day traveling for my partner's step grandfather's funeral, who recently passed away at the age of 96.  Papa Diel led a very long, productive life.  He was passionate about education, his family, and working for the greater good.  I may have only known him for the last 6 years or so, but I will miss his dry sense of humor and good stories.
When we got home, we were exhausted and we both wanted something easy but satisfying for dinner.
I had some leftover goat cheese and lots of tomatoes and basil, so this dish came together in a snap and really hit the spot.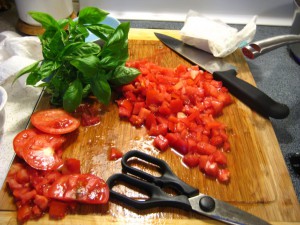 For my friends who do not appreciate goat cheese – not to worry.  The olive oil, garlic, tomatoes, and pasta water come together with the goat cheese to make a really light and creamy sauce – perfect for a summery night when you want something that isn't too heavy, but it needs to satisfy a comfort food craving.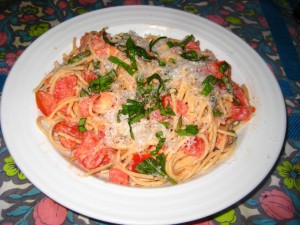 Pasta with tomatoes and goat cheese
1/2 box whole grain spaghetti pasta (I used Barilla Plus Multigrain Spaghetti)
3 large tomatoes (or more if you wish)
couple handfuls fresh basil
4 garlic cloves
crushed red pepper flakes (optional)
about 1/3 cup goat cheese
Kosher salt
black pepper, freshly ground
olive oil
Bring a large pot of water to a boil.  Season with a small handful of salt, not a few shakes of the salt shaker.  (Be sure to do this.  You need to reserve some of the cooking liquid and it needs to be flavorful.)  Prepare the pasta according to package directions for al dente pasta.  Meanwhile, chop the tomatoes into small pieces.  Gather the basil leaves, roll tightly, and chop to produce ribbon like shreds of basil.  Mince the garlic.  When the pasta has about 3 minutes left to cook, heat a large skillet pan on medium heat.  Add enough olive oil to just coat the bottom of the pan.  Add the garlic and just a few red pepper flakes (a little goes a long way!) and cook until the garlic is fragrant, about 30 seconds.
Now the pasta should be finished.  Instead of draining the pasta, use tongs to gather the noodles out of the boiling water and add directly to the olive oil and toss to coat the noodles.  Add the tomatoes and toss to combine.  Crumble the goat cheese into the pasta and toss to combine.  Ladle in about 1/4 cup to 1/2 cup of pasta water to the noodles to thin out the goat cheese to create a light sauce.  Add fresh basil, salt, and pepper to taste.  Serve with extra basil for a garnish and parmesan reggiano cheese if desired.
Serves 2 large portions or 4 small portions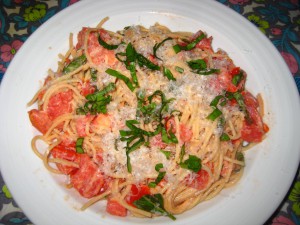 I hope this brings you comfort, whether you've had a crazy long day, or you just want to enjoy more garden fresh tomatoes and basil.
Peace.