I love planning meals and trying new recipes with seasonally available fruits and vegetables.  It seems that the body responds much better to what's in season, doesn't it?  I also love going to our local farmer's market and being able to interact with the people who help raise the fruits and vegetables I eat.  There's something really great about knowing who raised the beautiful heirloom tomatoes I've been eating all summer.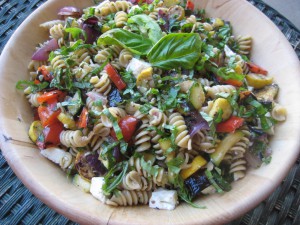 This salad is a celebration of everything I love about summer – the colors are bright, the flavors are fresh, and it's really easy to make.  You can enjoy it warm or cold, as a main dish or side dish.  Plus, it lends itself to using whatever vegetables and herbs you have on hand.  This would also be delicious with chickpeas or cannellini beans for extra protein.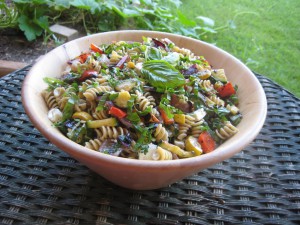 Summer Vegetable Pasta Salad
3 or 4 medium zucchini
3 or 4 medium yellow squash
2 red onions
1 or 2 red bell peppers
about 1/2 cup fresh flat leaf parsley, finely chopped
about 1/2 cup fresh basil, finely chopped, plus more for garnish
2 cups good feta cheese (preferably in a block)
olive oil
salt
pepper
red wine vinaigrette, I used Wish Bone Red Wine Vinaigrette
1 box of pasta, I used Barilla Plus Multigrain Rotini Pasta
Directions:
Fire up your grill or turn on your oven to 425.
Slice the zucchini and summer squash into round coins, about 1/2 inch thick or thinner.  Slice the red onions into large petal pieces and cut the red bell peppers into similar sized slices.  Place all the vegetables on a large baking sheet and drizzle with just a little bit of olive oil, salt, and pepper.  Toss to coat.  Cook the vegetables on the grill until the vegetables are softened to your liking, or roast in the oven until golden brown.  (You may have to cook your vegetables in batches).  Once the vegetables are cooled enough to touch, chop the veggies into desired size for the pasta salad, trying to keep the veggies all about the same size.
Meanwhile, bring a large pot of water to a boil.  Add a small handful of salt to season the pasta water.  Cook the pasta according to the package directions for al dente pasta.  Drain.  (I ran my pasta under cold water since I was serving this dish cold.)  Pour the pasta into a large serving bowl.  Add the cooled grilled vegetables and chopped parsley and basil.  Add enough red wine vinaigrette to your taste and mix (remember the vegetables have a little bit of olive oil already, so you might not need as much dressing as you think).  Chop the feta into dice-sized cubes and gently fold into the pasta.  Season with salt and pepper as needed.  Garnish with more fresh basil.
Serves 6 – 8 people for a main dish or lots more people for a side dish.
Enjoy!